Uci Medical Center Address and Contact Number
Uci Medical Center Contact Phone Number is : +1 714-456-7890
and
Address
is
The university of california irvine medical center is located in orange california and is the medical center which is also a teaching center for university of california. The plans for setting up a division with a major hospital having many medical divisions as a centerpiece. The medical center has veterinary dental and other medical divisions.
The medical center which trains the students from the medical school was not originally set up till it did not stabilize its funding and the political wrangling brought it to the uci. The medical center faced many hardships in the initial years but the funds started pouring in after some gap of years and funding for the dental school also came forth. There was an osteopathic, physicians and surgeons division in the medical center which was later restored with many modern facilities. The university of california than collaborated with irvine medical center to give the best facility and services to the patients. It also has national cancer institute which was designated for research and treatment of cancer. Other medical divisions includes the neuropsychiatric center, urology, digestive disorder treatment, community family health care centers, multiple- organ transplant center, brain surgery specialization, heart transplant and many more divisions. The medical center also has a new child care, women health care, cancer therapy departments, endoscopic ultrasound, ENT, nephrology and immunotherapy divisions which have got specialized rankings in the hospital. The contact information like email address, telephone number, website and postal cum official address of Uci Medical Center is mentioned in below section.
Sponsered Ads
Address of Uci Medical Center
The address of Uci Medical Center is 101 The City Dr S, Orange, California 92868, United States.
Contact Number of Uci Medical Center
The contact number of Uci Medical Center is
+1 714-456-7890
.
Email Address of Uci Medical Center
The email address of Uci Medical Center is
caseyj@uci.edu
.
Website of Uci Medical Center
The Website of Uci Medical Center is
www.ucirvinehealth.org
.
Sponsered Ads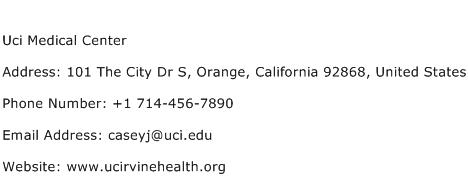 Rating of Uci Medical Center
3.6
Click Here

to add rating